Celebrating 35 years of conducting conferences, retreats and tours!
(not many sacred site tour companies out there that have been in existence for 34 years)
© "Standing Stones at Callanish" by Sheri Nakken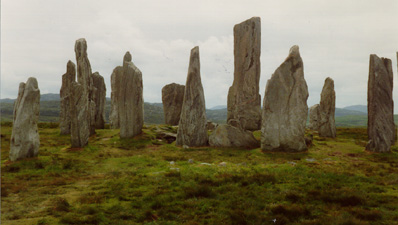 Enchanting Scotland!
Celtic Journey, Sacred Sites, Music, Mystery & Mythology
Ancient & Sacred Sites on Orkney,
the Isle of Lewis (Callanish), the Isle of Skye,
Fort William, & Rosslyn Chapel
July 30 - August 12, 2017
(13 night tour - includes the Orkney Islands main island)

Open to people from any country anywhere! Other currencies can be calculated.
And other dates possible too - private tours also possible for 5 or more people.

Journey with us to this incredible land of legends,mystery, bagpipes,highlands, standing stones, islands & myth
Highlands & Lochs - mountains, waterfalls, lakes, streams

Land of bagpipes, music, dance & myth

Magnificent Orkney Islands - main island - north of the mainland of Scotland
- Magnificent standing stone circle on a hill of heather overlooking the water. Construction is dated from 3000 - 2200 BC. 27 out of 60 stones are still standing and they are impressive. Panoramic video of Ring of Brodgar put cursor on right side of screen and move screen; more