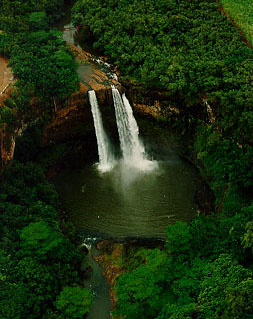 © "Kauai Waterfall"
Kauai: The Garden Island
of the Islands of Hawaii!
3 day tour of Kauai as optional extension following Big Island of Hawaii tour
Kauai dates - April 2011 (email for dates)
See Hawaii Tour for more details
(also can design private tours for your group -
large or small for longer periods on Kauai)
A very special place with incredible beaches and intense healing energies!
Walk beautiful sparkling white sand beaches lined with magnificent palms, lush vegetation of flowers and ferns

Swim in crystal clear ocean - incredible snorkeling

Beautiful Waimea Canyon - Koke'e State Park - the grand canyon of the Pacific!

Kekaha Beach - spectacular, long white sand beach on the west coast of the island

Ka Ulu a Paoa Heiau Located on a natural terrace above Ke e Beach is the ancient sacred site (heaiu) - the ancient sacred hulu school

Poliahu Heiau - named for the Snow Goddess of the Islands

Visit Kapaa Town - lots of shopping & yummy food!
Costs: - See details on Main Hawaii tour page
For more detailed brochure earthmysteriestours@gmail.com, wwithin@nccn.net please indicate which tour you are requesting information on, in your email
Earth Mysteries & Sacred Site Tours & Well Within
Phone 304-238-6612 Pacific Time, US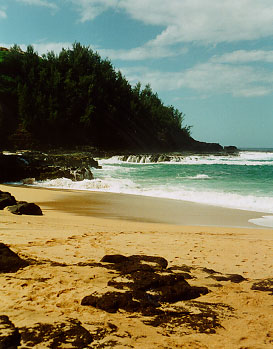 © "Kauai Beach" by Sheri Nakken
Visitors since January 22, 2000
---
---
---