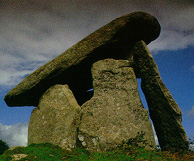 © "Lanyon Quoit" by Sheri Nakken
A Celtic Journey to Mystical Cornwall,
Great Britain!
Earth Mysteries, Ancient Sites
Tintagel, St. Ives, Lands End & Penwith area of Cornwall
June 11 - 18, 2019
Other dates possible too - private tours also possible for 2 or more people.
I am currently staying in Wales so will be able to do more frequent tours and tours for smaller groups
Beautiful Cornwall is in the extreme southwestern part of Britain. Cornwall is a peninsula encircled by coastline that abounds with rugged cliffs, hidden bays, fishing villages, sandy beaches & sheltered coves where pirates & smuggling were once common. The Cornish people have a Celtic-Iberian origin which still lives on in superstition, folklore & fairy tales. Come journey with us to mystical Cornwall - land of the Celts, Arthur, Goddesses, standing stones, earth mysteries, leylines, and mystery! A trip of a lifetime!!
Tintagel - breathtaking castle ruins on the wild coast - legendary
birthplace of Arthur

St. Ives - lovely seaside fishing village, famous for sandy beaches and
art colony - village of narrow streets & quaint cottages - potters,
weavers, painters & other craftspeople

St. Michael's Mount - mysterious mount that rises 250 ft. out of sea - part church, part 17th century castle - reached by causeway at low tide

Ancient Sites - stone circles, dolmens, underground fogous, ancient healing wells, much more - Merry Maidens, Men An Tol, Boscawen-Un, Lanyon Quoit, Holy Wells at Sancreed & Madron

Beautiful Beaches & Cliff Walks

Lands End, Penzance, St. Ives
Today's Weather in Cornwall

For Tentative Itinerary Click here

Bookstore - Celtic, Arthurian, History's Mysteries, Fiction, Goddess, Homeopathy & more.

Cost: Starting at ONLY $2095 USD + airfare Call for details.
For more detailed brochure earthmysteriestours@gmail.com please include your postal mailing address in your request for information
Earth Mysteries & Sacred Site Tours & Well Within
Phone (360) 390-4343
Visitors since January 11, 2000
---
Interesting Cornwall & UK Links
If you click on any of these sites you will be leaving Well Within - Please ADD A BOOKMARK before you leave
---
| Stonehenge, Cornwall, Tintagel, Celts, Celtic | | Stonehenge, Cornwall, Tintagel, Celts, Celtic | | Stonehenge, Cornwall, Tintagel, Celts, Celtic | | Stonehenge, Cornwall, Tintagel, Celts, Celtic | | Stonehenge, Cornwall, Tintagel, Celts, Celtic | | Stonehenge, Cornwall, Tintagel, Celts, Celtic | | crop circle tours | crop circle tours | crop circle tours | crop circle tours | | crop circle tours | crop circle tours | crop circle tours | crop circle tours | | crop circle tours | crop circle tours | crop circle tours | crop circle tours | | crop circle tours | crop circle tours | crop circle tours | crop circle tours | | crop circle tours | crop circle tours | crop circle tours | crop circle tours | |metaphysical, new age, holistic, mythology, celtic tours | |metaphysical, new age, holistic, mythology, celtic tours | |metaphysical, new age, holistic, mythology, celtic tours | |metaphysical, new age, holistic, mythology, celtic tours | |metaphysical, new age, holistic, mythology, celtic tours | |metaphysical, new age, holistic, mythology, celtic tours | | England Tours | England Tours | England Tours | England Tours | | England Tours | England Tours | England Tours | England Tours | | England Tours | England Tours | England Tours | England Tours | | England Tours | England Tours | England Tours | England Tours | | England Tours | England Tours | England Tours | England Tours | | St. Ives, St. Michael's Mount, Boscawen-Un, stone circles, Dartmoor | St. Ives, St. Michael's Mount, Boscawen-Un, stone circles, Dartmoor | St. Ives, St. Michael's Mount, Boscawen-Un, stone circles, Dartmoor | St. Ives, St. Michael's Mount, Boscawen-Un, stone circles, Dartmoor | St. Ives, St. Michael's Mount, Boscawen-Un, stone circles, Dartmoor | St. Ives, St. Michael's Mount, Boscawen-Un, stone circles, Dartmoor