Celebrating 33 years of conducting conferences, retreats and tours! International Tours since 1988; Conferences & Retreats since 1982
(not many sacred site tour companies out there that have been in existence for 33 years)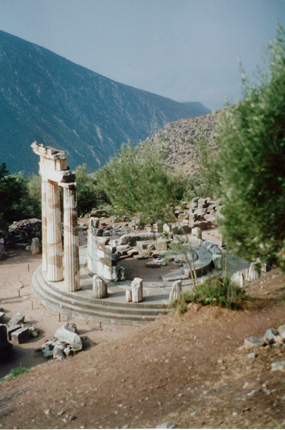 Incredible Greece!
Explore the Gods & Goddesses Within
Main portion including Santorini - May 14 - 24, 2015 (12 nights)
Delphi, Epidauros, Mycenae, Napflion, Island of Santorini
Optional time on your own to in Athens, before or after the tour
(I can help with this)
Tour open to anyone from any country
Journey with us to Incredible Greece -
Land of the Goddesses &amp: Gods, temples & mystery.
Springtime or fall - some of the best months to travel in Greece -
comfortable temperatures, little rain, and not crowded!


© "Tholos, Temple to Athena Area, Delphi" by Sheri Nakken
Delphi - Visit the impressive ancient ruins of the Temples of Apollo & Athena in the mountains - (The favorite village of most of my groups). A magnificent site. Time for shopping in the village. Incredible vistas down over the valley and the sea.

Harbor town of Napflion in the Peloponnese - also old quarter, beautiful walks & vistas; Napflion & Tolo

Mycenae - Visiting the ruins with its ancient palace & burial tomb ruins - many of the gold pieces found here, you will see in the National Museum in Athens. Also incredible tholos 'tombs' with unusual acoustic properties

Epidaurus - ancient & celebrated amphitheatre, home of Asclepius & Hygeia, healing deities & Chiron. Incredible healing center of the past

Optional day visit to islands in the area of Tolo/Napflion (extra cost); online video of boat trip to Hydra & Spetses from Tolo

Greek Food & Music

Greek Gods & Goddesses - Explore Hera, Athena, Demeter, Persephone, Artemis, Aphrodite, Hestia, Hygeia, Dionysus, Zeus, Apollo, Hephaestus, Poseidon, Hades, Hermes, Ares

Special Teachings in:

Mythology & Psychology: Exploring the Goddesses/Gods Within
Ancient Sites & Their Myths
The Sacred Geography of the Ancient Greeks - exploring the leylines & sacred geography of the ancient Greeks
History's mysteries
Astrology - the effect Chiron & the other asderoids named for some of the goddesses have in your birth chart

Santorini- "Santorini Greece in the Cyclades, Aegean, has one of the most spectacular landscapes in Greece and in the world. The traditional villages of the island, built on tall cliffs, offer a breathtaking view over the submerged volcano. They represent the beautiful Greek cliche you have always dreamed about! Among them you mustn't miss Oia, the place gifted with the most famous and stunning sunsets."..

Santorini; more

Ancient Minoan site of Akrotiri destroyed by earthquake and volcano 4500 years ago! (if open - has been closed for restoration due to roof collapse over site many years ago - supposed to open again in 2012)
Incredible villages with maze-like, white-washed streets and incredible colors
Tentative Itinerary
Cost: Starting at $3095 USD + airfare extra
Single supplement, add $500 USD
I can easily help you with your flights and good airfares as I am a travel agent
Cost includes accommodations, continental breakfast daily, admission to sites listed, transportation around Greece via mini-buses and/or cars, and workshops.
CEU's: 20 - 30 continuing education contact hours available for nurses (includes homestudy course before the tour)
Tours and workshops open to EVERYONE - not just health professionals!
Today's Weather in Greece!
For more detailed brochure earthmysteriestours@gmail.com, wwithin@nccn.net please include your postal mailing address in your request for information
Earth Mysteries & Sacred Site Tours & Well Within
Phone (360) 390-4343 Eastern Time, US
---
>
---
---