Celebrating 34 years! International Tours since 1988; Conferences & Retreats since 1982
(not many sacred site tour companies out there that have been in existence for 34 years)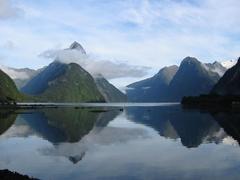 New Zealand the Magnificent
Aotearoa, Land of the long white cloud
South Island, North Island, or Both Islands Hot Springs, Geysers, Geothermal Wonders, Mountains, Glaciers, Fiords,
Waterfalls, Lakes, Beaches, Whales, Dolphins, & Maori Culture South Island Tour - Noveber 4 - 18 or 23, 2016 (14 nights)
optional extension to North Island Tour - November 18 - 23, 2016 (5 nights)
Both Islands - November4 - 23, 2016 (19 nights)
(leave North America 2 days before tour starts to arrive on tour start date due to time difference)
(weather in New Zealand in November is similar to May weather in N. Hemisphere)
South Island Incredible mountains, fiords, glaciers, waterfalls, hot springs, Maori culture, dolphins, whales & more
Fiordland - Fiordland is New Zealand's largest national park at almost 3 million acres. It covers much of the southern part of the South Island's West Coast. The Sounds in Fiordland are arguably the most beautiful places in New Zealand, and that's saying something! Wildlife, waterfalls, unforested valleys, crystal clear lakes, and elegant mountains are what make up the views, and the only signs of human inhabitance are the tracks running deep into the bush, and the cruises down the sounds.

Fiordland National Park
Milford Sound - Milford is truly breathtaking. So much that it often attracts the title of "The Eighth Natural Wonder of the World". Fiordland is one of the wettest places in the world, and is as beautiful raining as it is with clear skies. When it rains, waterfalls spring up anywhere, too many to count.

Boat cruise on the Sound (fiord)

Te Anau glow-worm caves

Wanaka - the view of the alps across the gleaming waters of Lake Wanaka are magnificent

Queenstown - many outdoor activities and panormaic views of the Remarkables Mountain Range

Aoraki/Mt. Cook Village perched below Aoraki/Mt. Cook, New Zealands' highest peak - beautiful walks & vistas

Glaciers - Fox & Franz Josef Glaciers - only glaciers in the world that descend into rainforest

Rainforest, lagoons & long stretches of wilderness coast

Punakaiki pancake rocks and blowholes

Hanmar Springs Thermal Reserve - extensive, pool complex

Kaikoura

Whale watching boat trip (all dependent on weather and whale presence)
Swim with dolphins boat trip (dependent on weather and dolphin presence)
Maori Tour - Visit various local sites, storytelling, explanations of Maori ways & medicines, cultural differences & more

Mountain Passes

Waterfalls

Nature Reserves

National Parks

Wonderful villages and shops

Sites from Lord of the Rings films

Lovely Accommodations in Motels, Hotels &/or B&B's in great settings

Options on your own (extra) - Bungi Jumping, Jet-boat rides, scenic plane or helicopter flights, hang gliding, whitewater rafting, gondola rides, horse riding, and much more
North Island - Maori culture, geysers, thermal pools, hot springs, water activities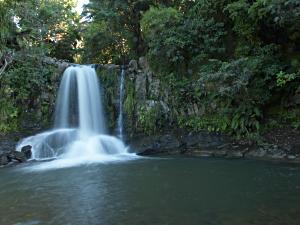 Rotorua - Spa City of the South Pacific & the heartland of New Zealand's Maori culture - Rotorua is a smallish city on the shores of Lake Rotorua. The surrounding areas are a geothermal wonderland, with geysers, boiling mud pools, and steaming craters. Rotorua is also a showcase of Maori cultural activities, a centre of tourism and a place of extraordinary natural beauty. It is surrounded by volcanoes, lakes, parks and recreational areas, and is a great place to go hiking or to view native birds and animals

Wai-o-tapu - geothermal area known for its brilliant colors - hot pools & Lady Knox Geyser

Whakarewarewa - The Living Thermal Village - Set amidst a landscape of erupting geysers, hot thermal springs and bubbling mud pools, is the living village of Whakarewarewa. Experience the unique lifestyle of the Maori in a natural, Maori village setting. Whakarewarewa, where the Goddesses of fire, Te Pupu and Te Hoata, emerged from the earth's core, inhaling and exhaling, creating the geysers, hot springs and mud pools.

Lake Taupo

Hidden Valley of Orakei Korako ("the place of adorning") - geothermal wonderland of gushing geysers & boiling mud pools

Maori Culture - The Maori are the indigenous people of New Zealand. Their name is derived from Ma-Uri, which means Children of Heaven.

Hangi - Enjoy Maori kai (food) cooked on hot stones underground as part of a traditional hangi
Kapa Haka - listen to kapa haka (traditional performances of song and dance)

Here you'll be spellbound by stories relayed through song, dance and art. Legends passed on through the years transform the handiwork of two sisters of the spirit world, carrying fire to their frozen and dying brother, into the geothermal energy that abounds in Rotorua today. The 1886 eruption of Mount Tarawera, now a sleeping giant, is steeped in fascinating and mysterious tales.
Main tour - South Island, 14 nights - starting at $3695 USD; Single supplement - $950 USD
Optional Extension - Nouth Island 5 nights additional -starting at $1395 USD; Single supplement - $350 USD
SHORTER South Island, Shorter 16 night tour (all but last 3 nights - all but Punakaiki, Hanmar, Kaikoura - ends at Hokitaka airport) - Starting at $3295 USD; Single Supplement $700 USD

Who Are These Tours Designed For?
These tours are designed for women as well as men; young or not so young; people interested in the mystery and sacredness of life, with a desire to know and understand more of where we've come from to assist us in where we are going and making a difference on the planet. We also explore a lot of newly discovered/released information that you may not have heard before. If you have a curiosity about mythology, sacred sites, other cultures, and a sense of adventure and want to travel with like-minded people in small intimate groups with a nice balance of workshop time, site time as well as free, independent time, these tours are designed for you. They are not your ordinary, large group tours, being herded into buses with little time to experience the energy of the site. We allow special extra time at sacred sites and there is always the option of being with the group or being on your own. Also, meals are usually not included, except breakfasts to afford you the opportunity to explore on your own at meal time or eat with the group.

We want your tour to be a trip of a lifetime, a transformative adventure

Flights & Travel Arrangements
Well Within is a travel agency & all flights and travel arrangements can be made with us. We have access to non-published discount fares to Britain from most locations in the U.S./Canada/World

Well Within's Earth Mysteries & Sacred Sites Tours


Celebrate 34 years of retreats and travel with us in 2016! Experience incredible journeys to a ncient & sacred sites throughout the world. Well Within's tours to mysterious & sacred sites are special in that you experience the power & energy of the sites. These are not just the normal sightseeing tours. They are experiences to remember for a lifetime. The tours are specially designed with expert guidance and time to experience each place. Well Within, since 1982, has sponsored & conducted nearly 100 exciting workshops, conferences, weekend retreats in holistic health & metaphysical concepts & nearly 100 incredible international tours to these mysterious & sacred sites as well as alternative healing centers. Well Within has conducted the above in California, Colorado, Hawaii, England, Scotland, Wales, Ireland, Switzerland, Germany, Greece, Norway, Sweden, Egypt & Bali.

Sheri Nakken, former R.N., M.A, Homeopath., is Director & Creator of Well Within. She has a great passion for mythology, legend, ancient practices, history's mysteries & ancient sites where clues are found as to why we are here on this planet & other realms that are present to assist us. By visiting these incredible sites, ancient memories and teachings can be tapped into consciously and unconsciously to assist us on our journey. Through these studies as well as alternative healing therapies & metaphysics, healing can occur for person & planet.

Well Within's Earth Mysteries & Sacred Site Tours
Phone 360-390-4343 Eastern Tie, US
---
| New Zealand Tours | New Zealand Tours | New Zealand Tours | New Zealand Tours | New Zealand Tours | New Zealand Tours | New Zealand Tours | New Zealand Tours | New Zealand Tours | New Zealand Tours | New Zealand Tours | New Zealand Tours | New Zealand Tours | New Zealand Tours | New Zealand Tours